Patrick Dobson has lived and worked most of his life in Kansas City, MO. Author of two award-winning travel narratives, his third book, Ferment: Mental Illness, Redemption, and Winemaking in the Mosel (Skyhorse, June 2020), deals with manic depression and how this and alcoholism shaped the decisions he's made in his life, including lighting out to Germany on a whim, working for a famous winery in the city of Trier, and forming the lifelong friendships that changed his life irrevocably.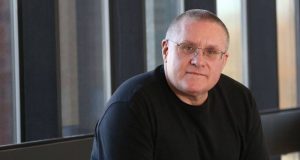 His second book concerns his Missouri River trip in a canoe from Helena, MT, to Kansas City. Canoeing the Great Plains: A Missouri River Summer (May 2015). His first book, Seldom Seen: A Journey into the Great Plains, details his walk from Kansas City to Helena and was published to critical acclaim in 2009. Canoeing the Great Plains won the 2016 Thorpe Menn Literary Excellence Award and the 2016 High Plains Book Award in Creative Nonfiction. Both books are published by the University of Nebraska Press. His two collections of poetry, When the Titans Sleep and Other Dreams (2018) and a brief infidelity and other reveries (2017) are published by Spartan Press.
Patrick has been an award-winning journalist, book editor, and ironworker and now carries mail for the United States Postal Service. He earned a doctorate in American History and American Literature in 2013. He teaches American History, Modern Latin American History, and Western Civilization at Johnson County Community College in Overland Park, KS.
---